Make connections, meet clients, find careers
through effective networking with LinkedIn™
SERVICES
Private Coaching
My private 2-hour consultations trains individuals to build an All-Star profile that stands out above the rest. Learn how to create a PDF of your profile to send to prospective clients or employers and many more valuable tips to gain the connections that help you succeed in your current career or find the new career you desire.
For those who are in business development, entrepreneurs, small business owners, recent graduates, and anyone needing a social media presence on LinkedIn I give you the toolkit you need to make connections. Build a profile that will WOW your clients and assist you with growing, marketing and promoting yourself on LinkedIn. We will customize a strategy to help you succeed.

Personalized LinkedIn Training Programs

Basic: Two-hour Networking with LinkedIn Course
Designed for the busy professional in mind, this two-hour course teaches the basic strategies for optimizing your LinkedIn profile and how to make valuable connections that can develop into business leads or a career opportunity.
Two-hour Career Transitioning with LinkedIn Course
I have successfully assisted many professionals find their new career using LinkedIn. Learn how to make your profile stand out from the rest and how to target companies that you want to work for. Understand what groups to join that get you noticed and connect with the right company executives that can make a difference in your career search. Know how to add skills that put you at the top of search results, and where to post, how to post and what to say to get noticed on LinkedIn and get valued responses. Let me help you get your dream career.
New for 2020: Advanced Two-part Training Course
Part 1: Networking with LinkedIn – Profile Optimization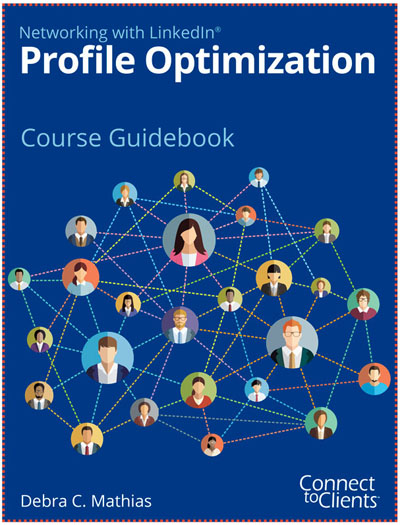 Your profile on LinkedIn is your digital business card! This two-hour, in-depth course provides the solutions for creating an All-Star profile on LinkedIn. Learn how to populate your work experience, construct an authentic About section, construct an effective headline, how and why to add key words, add photos, videos, links and documents to your Featured section, and much more. Build your credibility and get found on LinkedIn!
Part 2: Networking with LinkedIn – Turning Connections into Clients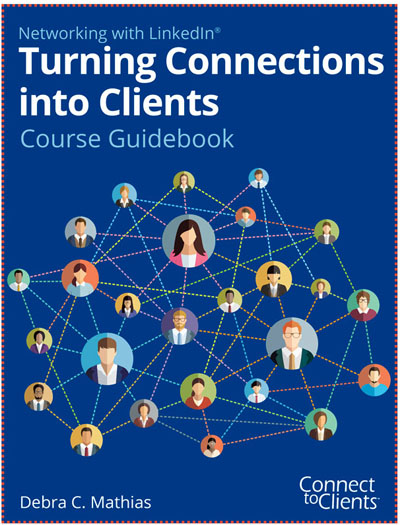 In part two you will be shown to how to reach out and connect with your prospects, clients, referral partners, and anyone with whom you wish to begin a professional relationship. Learn my 3-step system for targeting connections, how to write effective posts, and how and why to use hashtags. Learn to build lasting relationships that can forever change the way you do business. (Profile Optimization course is a prerequisite to taking this two-hour course.)
Contact Debra at (614) 563-7840 or email
connecttoclientsconsultingllc@gmail.com
to schedule your session.
LinkedIn Local Raleigh/Triangle
LinkedIn Local is a networking concept that allows you to meet with your LinkedIn connections offline on a human level, face-to-face. Invite your connections to get to know them in person.
Click here for schedule and registration
Corporate / Company Training
Does your company have a set LinkedIn protocol that they are using? If not, my Networking with LinkedIn training will give you the power your company needs to succeed with this powerful social media tool.
My 3-step process will teach your employees to become sales, branding and promotions executives for your business by connecting, building relationships, and marketing your business on LinkedIn to achieve your company's objectives. Leap ahead of your competition in 2020. Learn how to thrive on LinkedIn.
Contact Debra at (614) 563-7840 or email
connecttoclientsconsultingllc@gmail.com
to discuss your company's specific training needs.
Speaking and Keynotes
Debra has a passion for connecting professionals to do business together, job opportunity. She is a dynamic and energetic speaker that motivates her audience to take charge of their situation and provides actionable tips to see to it that they succeed.
Her one-hour presentation on LinkedIn profile optimization has enlightened many professionals to the power of LinkedIn and how to optimize their profile to be a digital business card. Her Networking with LinkedIn overview informs on how to use LinkedIn's powerful tools to gain lasting business connections. Contact her for your next event or meeting.
Contact Debra at (614) 563-7840 or email
connecttoclientsconsultingllc@gmail.com
to discuss your event or organization's specific needs.
ABOUT DEBRA
Debra Mathias has over 30 years of sales, marketing, promotions, branding and sales management experience. As president of Connect to Clients and a LinkedIn trainer and coach for over 8 years Debra brings her strategic actionable approach to everyone from entrepreneurs to Fortune 500 companies. Her dedication to the success of others is what sets her career apart. Debra's guiding philosophy is to "pay it forward." Her LinkedIn strategies gives companies and individuals the toolkit they need to succeed in social media marketing. Don't just survive, thrive in 2020.
Debra is host of LinkedIn Local Raleigh/Triangle, a worldwide networking initiative held quarterly in the Triangle area to bring LinkedIn connections face-to-face to meet other professionals of like mind. Her desire is that everyone meet someone that they can connect with to grow their business, become a referral partner with or find their career opportunity. Her desire is to show others how to grow, market, and promote their businesses through meeting the connections to build their network.
As a former race car driver for 13 years and 17-year breast cancer survivor she puts her focus, determination, and passion for success into every aspect of her life.
Debra is a current Sports Car Club of America (SCCA) member and a former race car driver who competed for 13 years in the Spec Miata class of both the SCCA and the National Auto Sports Associate (NASA). She is still involved in amateur motorsports competition as crew chief for her husband. Debra also studied martial arts and is also an avid gardener, writer and feng shui follower.
CONNECT

with Debra on social media

LinkedIn Local Raleigh (LinkedIn Group)